Close to 75 interviews were completed in the years leading up to the completion of Bass Line Continuum. Many of them did not make it into the book for various reasons. Some were completed before I had any plans to publish a book and the subject matter did not fit the themes of Bass Line Continuum. Others were not transcribed and/or edited in time for the release. My original idea for the book was to cover more that just bass players. I reached out to one of my all-time favourite guitar players, Bobby Broom. I was delighted when he agreed to the interview! As the focus of the book shifted to bass, Bobby's interview was put aside. He is quoted in the book, however. Here is the full interview, for the very first time...
JR: How has your practice changed over the years? 
BB: One way it's changed is that it's not as regular. It would be much more regular when I was trying to learn to play. I spent every moment that I possibly could practicing, or at least I had the desire to practice. So, I think by the time I got to my mid twenties, that started changing. I was working a lot, playing a lot. It waxes and wanes, but I've always felt that I never practiced enough, like, even when I was practicing three and four hours a day as a youngster. I didn't think that was enough, you know, so you talk about beating yourself up, I mean, I did that from the beginning. Like, "You're never going to amount to anything, you're never going to be great because you don't practice like the prodigies practice, like eight and ten hours a day." That was my thinking at the time, but I practiced every day. I knew to do a little bit of everything, and not focus too much on one thing. And that just kept me interested and less frustrated. 
JR: Did you pattern yourself after a certain player, or a few players, and when did you kind of figure out your own style? I hear bits of other players, but you don't sound like anybody else to me. 
BB: Good! Yay! [Laughs.] Well, you know, I mean, okay, so I have players that I absolutely adore, but "Pattern myself after them," I don't know that I can say that. So there was George Benson who was like the impetus for me even like wanting to pursue the guitar in jazz. I think I may have wanted to pursue it, but not jazz, but just playing the guitar. One of my best friends, growing up, who was a jazz drummer and his father was a jazz musician, and he loved music and had the records and would try to play stuff for me, and I was like, "Ugh, whatever, what is that? This is crazy." But hearing George Benson, that was the impetus. That's when I realized, "Wow," you know, "you can be that creative!" Around that time, I had already been listening to Wes Montgomery, but it hadn't crystallized like it did with George, and then, from George, I went back to Wes, and was like, "Oh, that's what my teacher was talking about!" I could hear the similarities. I could hear how great Wes was then. After that, it became more about jazz: not so much about the guitar, because I quickly started to try to find out where this music came from and what the story was. But as far as the guitar, it was George, Wes, and then Pat Martino, who was, at that time, the prominent urban, powerful guitarist on the scene at that time. I'm talking about the 70s. So, it was those three guys: those three guys were my trinity. And the only one I could begin to try to think about taking stuff off the record was Pat Martino, like because that seemed clearer, kind of more straightforward to me. George's thing was like blowing up pixie dust, like, "Wow, look at that, but don't try to catch any of it, just look at it." Wes was like that, too. His dust was – it glittered, and it like hung up really for a long time. 
So these were guys that I admired, and I listened to on a daily basis. I think I transcribed one of George's solos just for the sheer sake of trying to see if it was physically possible for someone else to do it. [Laughs.] I'm serious! This thing was so, like, how can somebody play that fast, that much, for that long, without stopping? And so, I, you know, I set my mind to learning the solo, and I did, and I played it once or twice with the record, and then that was it. I said, okay, it's possible, but, like, to begin to take it apart and stuff was like, no, man, this is – I see it is so just – his personal train of thought, and his personal way of navigating the music with his own ears, through the instrument, through his own physicality. I just felt like "I can't do that." I won't do that, because then I'm going to sound just like that, and I don't want to sound just like that. I want to enjoy that, but I want to find a way to make myself feel the same kind of reaction coming from my own music, from my own playing. So, that was really what I felt from the very beginning, first hearing George. It was like, okay, I want to do it like that. Not like sound like that, but have the same reaction and emotions, from myself, if that's possible. I mean, that's really the thing that keeps us playing, is hearing the possibility, and being positive about that. The smallest success, somebody saying "You sound good, kid," or just calling you to play, or any little thing that is praise or validation or encouragement for you to continue, you suck that up like a sponge, and use that as energy to fuel the possibility that may be, you know, maybe that little split second I heard that sounded okay is actually okay. You know, and maybe it's actually good. Maybe it could actually be good.
JR: You know who I hear in your playing? [BB: Who?] I hear Grant Green. 
BB: Yes. 
JR: You play too many chords to be Grant Green, but when you play single note lines. It's maybe the albums that I know, like the first one I really got into was the Monk (Bobby Broom Plays for Monk) album, the trio. I love that album. I listen to it over and over again. As a bass player, too, I love that album, because there's no piano. Your lines are super clear, and that's kind of the way I hear Grant Green. He's not blowing me away, like technically, but his lines are so defined, you know? So, I kind of connect you to that, because I hear your lines as being, well, always melodic, and like I said, very defined. 
BB: Do you think that it may be something about the feel, too, because I had maybe two Grant Green records when I was younger. I want to say it was toward the tail end of my senior year of high school right before I was getting ready to go off to school, and he was doing this funk thing, and he was playing the pop tunes, like "Didn't I (Blow your Mind This Time)," and "Betcha By Golly Wow," and that kind of thing. So he wasn't playing bebop; he wasn't playing, like, through changes or nothing. And so, I didn't know anything about any of those records, and none of the stuff with Larry Young. I didn't know any of his Blue Note records. And then, I think maybe a little bit before the Kenny Brown Band, one of the first incarnations of that, somebody was saying – somebody said to me, "Yeah, you sound like Grant Green." And I'm like, that's interesting, because I never really ever listened to Grant Green. I wondered if it's just about the feel, you know? He had that real kind of behind the beat, not very on the meter kind of thing. It was just free. And I know that I do that, so maybe that's part of it. 
JR: It's funny: I found the Blue Note recordings before the [BB: Really!] funk stuff, yeah. Because I heard Idle Moments, that album with Bobby Hutcherson and Duke Pearson on piano, and I just loved it. And then, I found all the Blue Note albums, and someone's like, "You talkin' about that funk guy?" And I was like, "funk guy? What are you talking about?"  
BB: Yeah, see, that's so interesting how perspective – so, you're younger than me, I'm assuming, so when was that, though, was it in the 90s? 
JR: It would be maybe 10 years ago? 
BB: I don't know if those Blue Note records were available… 
JR: No, I think they started getting reissued in maybe mid-2000s. 
BB: Exactly. I don't remember ever seeing anything or even knowing anything about most of those Blue Note records, most of them, until the 90s and 2000s. You know.
JR: Yeah. I loved his playing on those albums. It's so good. 
BB: I have them all now. 
JR: There's a great album with him on a Lee Morgan album, Search for the New Land? Have you heard of that one? That's a cool album. It's a six-piece.    
BB: Right. Right. I have to check that – I remember talking to Bob Cranshaw, just because I wanted to hear it from the the original source, a member of the Blue Note era – "Bob, why was everybody calling Grant Green all the time to play on their records?" I mean he wasn't very, you know, technically proficient, however you want to say that. "Why did he get so many calls?" and Bob looked at me like I was crazy, like: "Because he's so good Everybody wanted to get that feel. Everybody wanted that. He felt good; he made the music feel good, and everybody loved him. Everybody loved him." [Laughs.]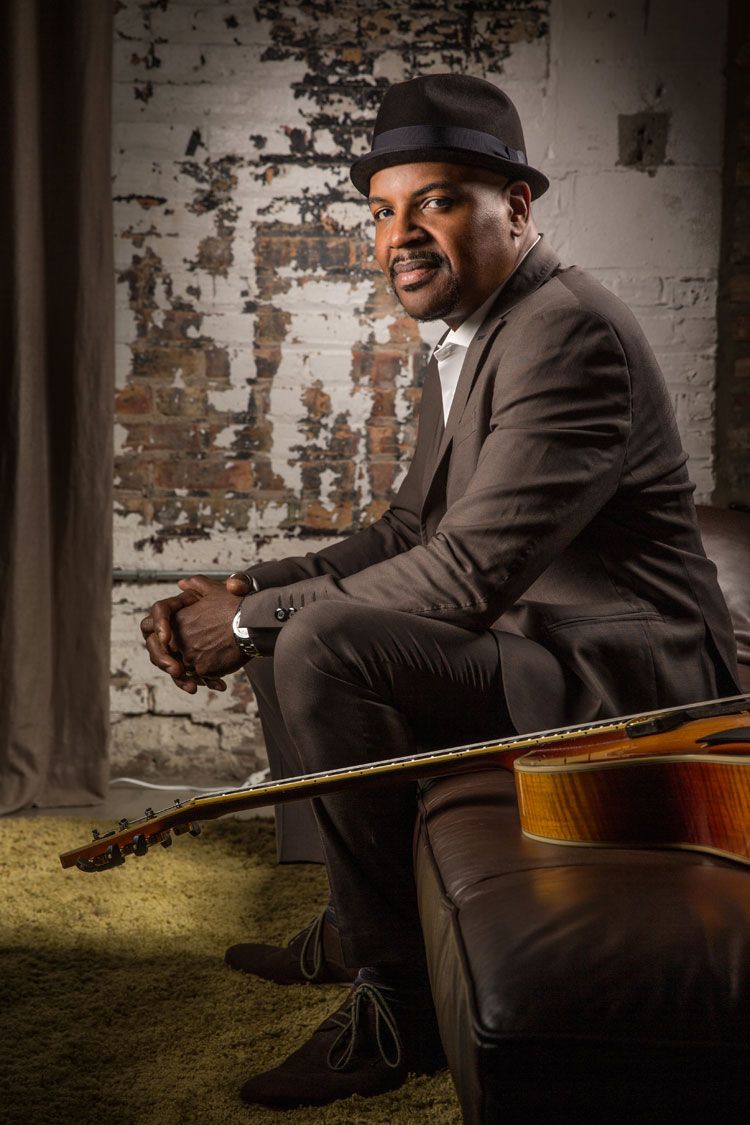 In a career spanning more than three decades, Bobby Broom has developed a sound that is clear, yet complex; familiar and always exciting. In addition to his incredible solo albums, Bobby has performed with Sonny Rollins, Miles Davis, Kenny Burrell, Stanley Turrentine, and more. Visit www.bobbybroom.com