Curtis Freeman is an 'in demand' bass player, studio bassist and music educator. Curtis has traveled and performed in over forty countries worldwide, working with several talented Pop, Rock, Country, World Music, Gospel, and Jazz groups.
Freeman was featured in two PBS Specials backing Canadian Guitar master Pavlo: 'Live from Kastoria' (Greece) and 'Pavlo Live from Guadalajara' (Mexico). Both TV Specials are currently being broadcast across American television on almost 100 PBS stations. Curtis toured with Pavlo across Canada opening for José Feliciano and The Tenors, playing large sold-out venues including the Air Canada Centre.
JR: What was your first bass? 
CF: I bought an Ibanez Soundgear bass that I ordered from a catalogue in a music store. I grew up in Espanola Ontario and there weren't any music stores that carried basses. 
I had played an Ibanez in high school so chose to buy one. I had worked all summer for my Dad's construction company saving up for it. 
It was beautiful with a solid Padauk body, EMG's were stock pickups and the bridge and hardware were perfect. I still have it! 
JR: Is there a bass you sold over the years you wish you had kept? (The one that got away!) 
CF: I sold an F Bass BN6 (six string) for way under value. I regret that poor decision daily. It had a beautiful purple burst, black hardware, a great preamp...Ugh! 
JR: Which recording of yours do you feel best represents your playing and tone? 
CF: I see myself more as a 'live performer' than identifying as a 'recording artist'. Although, I love recording in the studio, I did a few live recordings with Pavlo (Live in Kastoria and Live in Guadalajara). I feel that these recordings do a good job capturing my sound and vibe. 
JR: What is your current rig? 
CF: My main basses are Foderas. I use a Monarch Standard 4 string the most and the 5 string Emperor often as well. Strangely enough I barely use an amp. 
I fly so often to shows that I generally use a Sure Wireless, a Radial Tonebone DI box and I rely heavily on the on-board (Mike Pope) preamps in my basses. 
JR: How often do you change your strings while on tour? 
CF: I change my strings once a month. I use a medium-lite gauge of D'Addario nickels. 
JR: They say the sound is in your hands but how much does your main bass contribute to your overall musical voice? 
I believe that a good instrument will 'get out of the way' of your playing and let you do your thing. My main bass is so comfortable (4 string Monarch Fodera) allows me to speak as clearly as possible.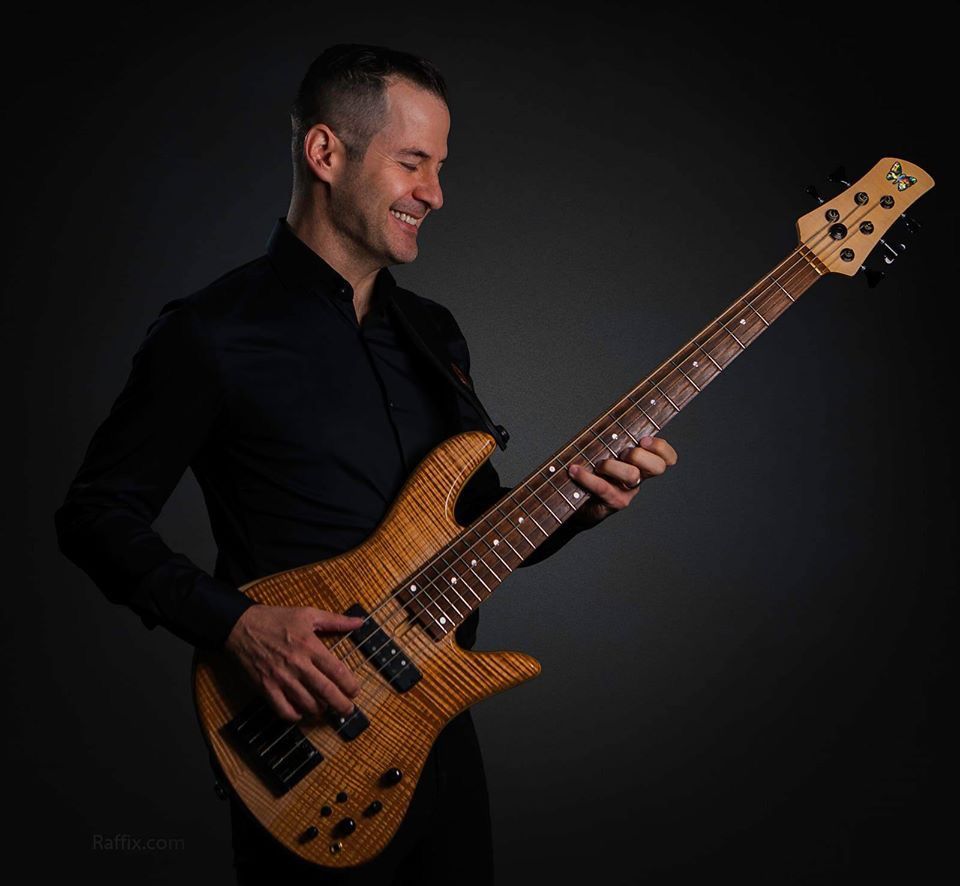 *Photo by Raffi Hadidian