I recently sat down with the legendary Stuart Hamm to talk basses, amps, and tone!
JR: What's your main bass these days? 
SH: My main bass is this guy, which is I guess the second prototype of the Warwicks. One of the best things about Warwick is a guy named Marcus Spangler who is a designer and builder – he's just a freak, you know, his passion. And I mean, there's some real problems with this bass, the main being that, you know, the horn goes to the fourteenth fret where every other bass in the world goes to the twelfth fret. So when I first got this bass, I went to a session, and they said basically, you know, we're in the key of F, and I'm playing like this, and the producer stopped and said, "What are you doing?" I'm like, "Oh! Yeah!" So I was playing in G. So, I have subsequent versions that they corrected the horn thing, but this bass, just the neck is awesome, and it's just beat to shit. I'm actually going to take it in. I'm doing a thing in Germany later this year, and I'm going to drop this bass off and send it back to the factory to get totally reworked up, so new frets and hardware. 
JR: How long have you been with Warwick now? 
SH: I don't do years, man. I can remember every gig, who I met, what the hotel was like, and who screwed up what song, but I don't remember how many years, man. I'll say five, how's that? 
JR: How much of your sound in your hands versus how much is in your gear?
SH: You know, good gear should transmit your sound, not create it. 
JR: Right. 
SH: You know, if you're looking to buy an amp or a guitar or a bass to create your sound, you're lost. It's the same with me with pedals; I just did a TonePrint for TC Electronic for their delay where I use the delay like a 'verb. And the guy there was like, well, that's really interesting: you're using it to colour the tone, to shape the tone, right, not create the tone out of it. So, of course, the answer is the fingers, but having said that, every bass you play sounds a little bit differently, but does anyone but us notice that? 
JR: No. 
SH: But dude, I remember, honestly, when we did that BX3 tour with Jeff Berlin, Billy Sheehan, and myself. Jeff was playing whatever bass he plays, bridge pickup through a Mark Bass amp, little teeny Mark Bass amp, and Billy's got his two compressors and his Yamaha. We would switch basses and do "Big Bottom," and when Jeff played through a Yamaha bass through two compressors and adds fifteens, it still sounds like Jeff Berlin! 
JR: Tell me about the new amp: the new Mark Bass S.T.U. Amp 1000. 
SH: I talked with the Mark Bass guys for a while. I think the first time I met Marco was when BX3 played the B.B. King's in New York, and there was Marco showing Jeff Berlin how to unhook the horn from a little mini Mark Bass amp. The guy went from literally selling electronic gear out of his truck to cornering fifty percent of the bass market? Forty? Sixty? Somewhere in there, right? So I met with those guys, you know, I've known them for a long time. Sisinio is the engineer. Great, crazy guy. Just a freak about amps as I am about basses. I can't talk electronics or capacitors or any of that. When I try to design a product that has my name on it, I want it to be – I'm looking at my amp longingly, but the way – I want it to be unique, not just like slap your name on a P bass. And also fill a market place void. You can't really bring a 4x10 to a rock gig and you're too old to carry Ampeg 8x10s, right, so cabinet-wise, there's got to be something in the middle with all the innovations and neodymium and what Aguilar did lightweight cabs and stuff, right? They sold me on that idea. They had this cabinet with two 15s in it, and I was like, no, 15s are going to be mushy. But whatever they did, the definition of the 15s is amazing, and it has a low end that just, you know, when I plug in some of the old gear, it just sounds a little nasally. So really full, easier to carry, a nice size, and bigger than a 4x10. When it's rock, it's got to look cool, right? So I thought the kiddies would like something with big knobs and bright lights! You know, I usually use the solid state side for recording: like in your track, the DI track on its own – I mean, the amp track on its own sounds kind of squirrely, but if you mix in the DI track, it just adds some space.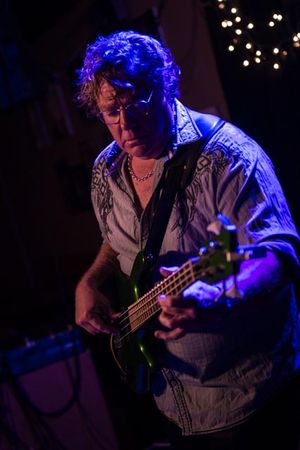 *Photo by Dave Peleschak
Stuart's new album, ARTSPOKE is available now at www.stuhamm.com