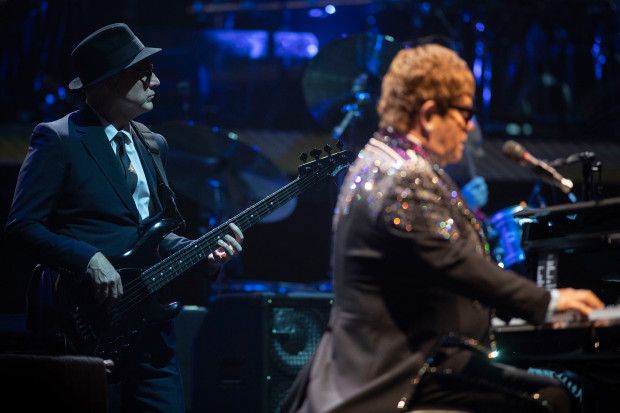 I have been following Matt Bissonette since his late 80s work with David Lee Roth, early 90s work with Joe Satriani, and through to his current gig as bassist for Elton John. Matt is living proof that it is possible to be a brilliant musician while being humble and kind! I have all the respect in the world for Matt Bissonette!
JR: What was your first bass? 
MB: My first bass was a brown 4 string Aria around 1973. My mom and dad bought it for me as a surprise with a little Jordan amp. 
JR: Is there a bass you sold over the years you wish you had kept? (The one that got away!) 
MB: There are many. When my son was born I "cleaned house" so we could buy diapers! I sold a 1962 P bass, I sold a 1964 Jazz bass to my friend, who still has it, and promises to sell it back to me if I ever want it. What a pal! Whenever I have sold a bass or amp or something that sort of breaks my heart it always seems like God brings something back years later that is even better. Very weird but cool! 
JR: Which recording of yours do you feel best represents your playing and tone? 
MB: Wow, tough question. I try and record a bass sound according to the style of music. For jazz there is a Maynard Ferguson CD called "Live In San Fransisco" that I used my old German upright on, sadly it snapped in two a few days later on the road. I liked the fretless tone on a song called "All Around The World" on a solo CD called "Oh No Bass Solo". A lot of my favorite stuff tone wise I've never heard mixed versions of, they get lost in the shuffle or no one ever hears them. I really like when a producer likes to experiment with odd different tones, octave dividers or anything different that the "meat and potato" sound, but I still love meat and potatoes! I always like the sound of a MusicMan Stingray 5 string, it seems like whenever I plug it in in the studio or live it just naturally sounds great. 
JR: I've had the pleasure of hearing you play with Elton John three times and your playing is always locked in AND melodic! What is your setup for the current tour? 
MB: God bless you man. Just using the MusicMan 5 string, we have 6 of them, our bass tech Rick Salazar had them all custom designed. They all sound exactly the same and are pretty solid. Rick is amazing and he does all the "thinking" so I can just go up and play. We play pretty soft on stage, at least I do, ha, and rely on our monitor guy, Allan Richardson, to pump the bass in my in ear monitors. 
JR: How often do you change your strings while on tour? 
MB: I think the strings are changed every 3rd or 4th show. In the old days I would boil the strings, probably after the Elton gig is over I'll be back to boiling! 
JR: How much does your main bass contribute to your overall musical voice? 
MB: I guess I've been playing bass for so long that I never really think about that. I've been playing in bands since I was 12 so I just got right to it and haven't looked back. Over the years I've worked on my singing which makes me rethink the approach of playing bass. I guess also over the years I've recorded bass last on songs I write, much like Paul McCartney would do on the later Beatle records. You get so used to just throwing down a part that you don't really scrutinize the part. I'm learning to do that more now than ever. Bass is so great, one of the great "unnoticed" things in music, when it's wrong it's very bad, when right things just seem to make sense for everybody.